4 Great Hair and Makeup Tips for Bridesmaids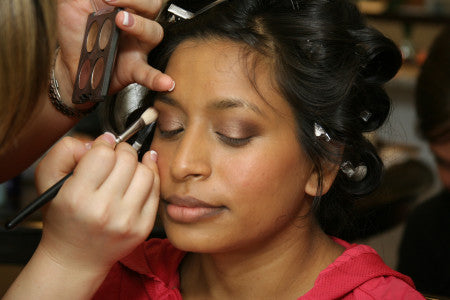 4 Great Hair and Makeup Tips for Bridesmaids
Summer has come and gone, but that is not going to stop some of your girlfriends from having beautiful Fall and Winter weddings. That means you are most likely going to be asked to be a bridesmaid. Here are 4 tips to help you prepare for those wedding photos.
1. The way a bridesmaid styles her hair depends on the style of the dress. If the dress has sleeves or straps, it may be best to wear your hair up to show off the style of the dress. Adding a braid or curls to the updo will add style and class to the look.

If the dress has a single strap on one side of the shoulder try curling hair to the side of the dress without a strap.  Hair to one side will complement the single strap of the dress.

Lastly, if the dress is strapless, an updo may be nice if the wedding takes place during the summertime when the weather is warmer, or down and wavy during a cooler season.
2. If you have to style your own hair for the wedding, practice a few times before the big day. To avoid the "prom-look" use a thicker curling iron. This will allow you to achieve a more wavy and natural look. If you are braiding your hair, apply a minimal amount of oil before you start. This will decrease frizz while making your hair appear hydrated and smooth.
3. Makeup application depends on the color of the wedding. If the wedding is already colorful and bright, try going for a more natural look. Nudes and bronze color makeup will make you glow while showing off your natural beauty.

However, if the wedding is black and white, go with a colorful shade of the bride's choosing. If she prefers a natural eye, try a bold or bright lipstick to add some color to your style.

4. Wear fake lashes to make your eyes stand out in photographs. Go for the feathered style eyelash to make them appear more natural. Also, use mascara to blend your eyelashes with the fake ones.
Follow these tips to make sure that you get a tiny bit of the attention on your girlfriend's big day. Luckily, we can take care of all of these tips for you. Just contact us today to book a bridal party appointment.